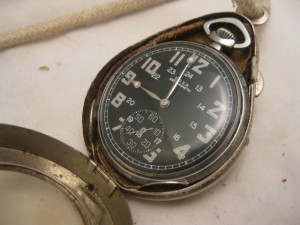 When clocks were invented, people were thankful that they can now assign and determine the exact time of the day. However, clocks big and immovable. They need smaller clocks that they can carry around with them.
This resulted in to the invention of the pocket watch, the first portable clock. The pocket watch was made in the 16th century. This was also the time that the spring driven clock was manufactured.
The first pocket watches cannot be placed inside pockets at all! They were big, boxy and were used by hanging them like pendants. Only during the 17th century did the pocket watch became small enough to fit in a pocket.
Pocket watches were commonly used among people manning railroads and railway stations. They used it to avoid possible accidents due to workers not knowing the time each particular train will arrive or depart. But many people, such as military personnel, also used pocket watches.
A military pocket watch is designed just like any ordinary pocket watch. The display is analog, which means there are mechanical hands that tell the time. Just like a normal pocket watch, a military pocket watch has a long chain that is used to secure the watch to a waistcoat, lapel or belt.
It is also common for military pocket watches to have a fastener so that the watch can be attached to the buttonhole of a uniform.
A military pocket watches may be one of two types. Most are hunter cased type. A hunter cased stopwatch has a hinged front cover that protects the face of the watch from scratches and damage. The cover may even have a compass. The open type does not have a cover at all.
Also, most pocket watches are mechanical types. So, what appears to be a mechanism that is for a mechanical wristwatch can be used for a pocket watch.
The popularity of the military pocket watch, and pocket watches in general, have been overtaken by more convenient and lighter wristwatches by the 20th century. Officers during World War 1 liked a watch being worn on the wrist which can be more convenient than having to dig a pocket watch out of their pockets.
Still, military pocket watches hold a lot of value. They are considered as ornaments or collector's items. And it reminds us that this classic watch had a role in shaping a little of our life as we know today.
The History of Military Pocket Watches