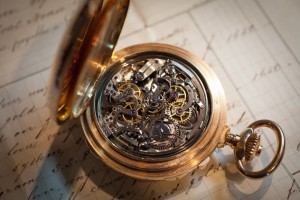 It has been popularly known that pocket watches were popular from the 16th to the 19th century. However, it was in 1462 when the pocket watch was first known. Dur
ing that time, an Italian clockmaker named Bartholomew Manfredi gave a "pocket clock" to Marchese de Mantra.
German clockmaker Peter Henlein, who was also the inventor of spring powered clicks, officially invented the first known pocket watch in the early part of the 1500 's. The first pocket watches sold in the market were made of iron. They were big and were carried around in the hand. Then in the 1600's, iron was substituted for other materials such as steel and brass.
In the 19th century, America began selling ornate pocket watches for men. Men's pocket watches became a favorite among the wealthy. During the 20th century, men's pocket watches became essential accessories to formal and casual suits.
Today, men's pocket watches are rarely used except as status symbols or collector's items. Their practicality and popularity have been eclipsed by wristwatches. Surprisingly, the wristwatches were considered feminine and unmanly until the turn of the 20th century.
But even as the popularity of pocket watches have declined, railroad companies still use pocket watches extensively.
Today, there are still a few companies that produce ladies and gentlemen's pocket watches.
Since 1740, the Jules Jurgensen company is known for their men's pocket watches. Jules Jurgensen pocket watches are very beautiful and the company's product line is very comprehensive. Their products include pocket watches made of solid 14K gold, sterling silver or brass.
Charles Hubert, Paris is also one of the leading producers of men's pocket watches. Their line speaks of top fashion and excellent quality. They have the biggest choices of mechanical pocket watches. One will also note the unique style of their special pocket watches such as alarm pocket watches, sun and moon pocket watches and skeleton pocket watches.
The South Dakota Gold Company specializes in pocket watches that have an American theme to it. Eagles and attractive pink and green colors of Black Hills gold decorate the fine men's pocket watches that the company produces.
Euro Genevive prides itself as the leading pocket watch manufacturer for the 21st century. They sell pocket watches and pendant watches for everyone. The movements used in their watches are Swiss made and the cases are made in Italy.
When you buy and display a pocket watch, you can be sure that you are making a statement for yourself as a wealthy upper class gentleman.
You can research more about Pocket Watch on Wikipedia.
History of Pocket Watches